Whether your water won't drain, you have a leak, or you're looking to add on to your existing plumbing network, Thad Ellet Plumbing is the company to call.
Although we specialize in the tough, dirty work that others in Southern Illinois aren't willing to perform, no job is too big or too small for our crew.
We do all of the following and more: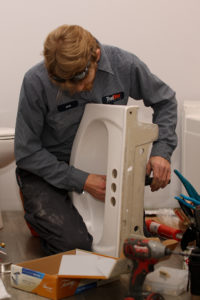 Adaptation to existing systems for add-ons or remodels.

Concrete cutting, removal, and replacement.

Construction of new plumbing systems.

Emergency plumbing services.

Excavation services.

Faucet removal, repair and installation.

Garbage disposal troubleshooting, repair, and installation.

Gas appliance installation and repair.

Gas leak detection.

Gas pipe inspection, diagnosis, and replacement.

Trench excavation.

Toilet removal, repair and installation.

Water heater installation, replacement, and repair.

Water leak detection, diagnosis, and repair.

Yard hydrant repair and installation.